Vous pouvez désormais consulter en ligne
le catalogue de la vente
aux enchères prévue
le 29 septembre 2017
au profit de
CALM-UK
et du
Mercy Center de Bangkok
.
Catalogue
A broken Jazzmaster guitar, our first ever 7" release, French designer suits, signed white labels, a toy piano, promotional video outfits, hand sown underwater costumes, worn down stage shoes…
There just seemed to be an endless list of stuff we'd gathered since that day it all began in a London tube station two decades ago. As the big '20 Years' drew nearer, we thought it may be time to sift through it all before the hungry city rats got to it; see what would be worth saving from the proverbial fire. We thought to ourselves that maybe some people would even be interested in owning some of these items. Stranger things have been bought in the past; celebrity locks of hair and royal pairs of underwear have both passed under the auction hammer in recent years.
So we proceeded to scour our own personal wardrobes, our management office and the band's own dark and dusty storage space to see what was hiding in cobweb covered corners. Guitar pedals that we thought were lost, and posters of gigs that never happened surfaced along with gloriously roughed up stage gear that we thought had been lost in transit to South America back in 2001. Whilst sifting through the reams of black clothes on the wardrobe rail, out poked little forgotten classics from designers we love and pieces worn during the times we rubbed shoulders with our heroes. The dresses and denim, the leather and PVC. The rare and unseen, the signed and played, the disused pedals and rare releases were all there too. And now they are ready, ready for new homes!
Placing our own nostalgia firmly on the shelf, we've decided to present to you our selection of what we believe to be the best and most recognizable items from over the years. We've painstakingly identified each piece and found photographic evidence of most of them in action.
So here it is: the most complete Placebo auction one could ever imagine, for the first time in our history, complete with clothes, vinyls, CD's, instruments, posters, accessories and signed material.
The proceeds from these sales will go to causes that we believe in and have supported over the years:
-
The Mercy Center, Bangkok for underprivileged children
-CALM (Campaign Against Living Miserably), a charity dedicated to the prevention of male suicide in the UKSo please bid generously, these items and the charities deserve it!
Love,
Placebo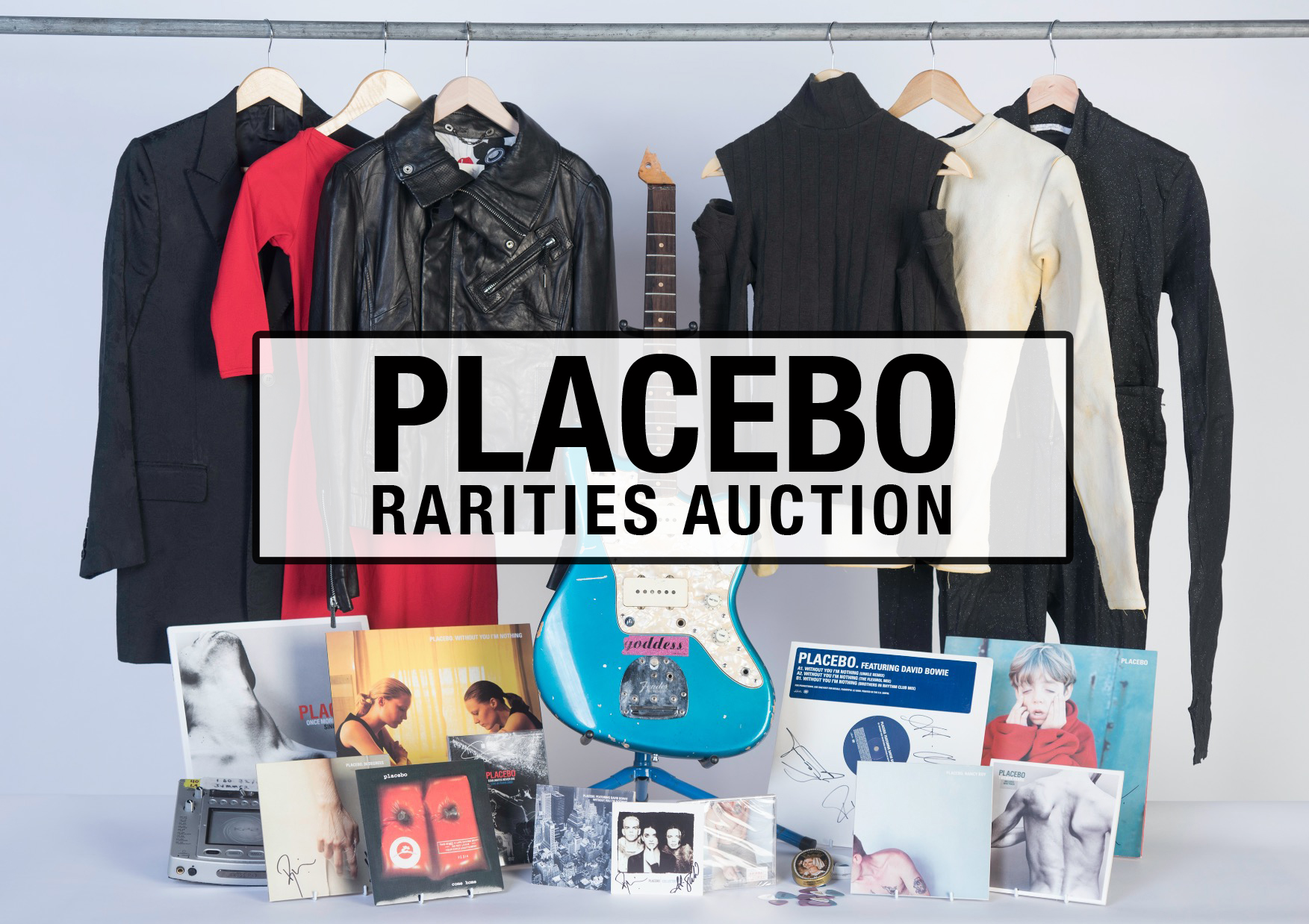 Merci
Placebo News, Gifs and Archives
---

"Beware of false prophets which come to you in sheep's clothes, but inwardly, they are ravening wolves"